About us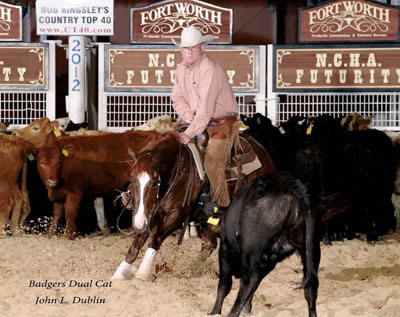 John L. Dublin has been training cutting horses for 20 years and has taken many horses on to win Championships and Finalists at some of the largest Cutting Aged Events.
Not only does John L. Dublin excel in training open caliber cutting horses but also he succeeds in training & coaching Non-Pros & Amateurs. Dublin Cutting Horses has accompanied many Non-Pros & Amateurs to the finals & World Championships. He has also coached them to many year-end championships and other goals.
John L. has spent time riding with some of the industries best, such as: Mark Lavender, Tom Merryman and Jon White. But Dublin's passion for cutting horses originated with his own family. His grandfather was one of the people on the forefront of the developing the National Cutting Horse Association. His Uncle Chris Dublin is also on the NCHA Executive committee. Dublin has carried on that family passion through training & being active in the industry.
John L. Dublin has held the Montana Cutting Horse Association President & Director. He held the title of National Director for NCHA for 7 years. He is also an NCHA AAA Judge.
Dublin Cutting Horses offers successful training programs coupled with the knowledge of the industry to fit your Open or Non Pro needs.